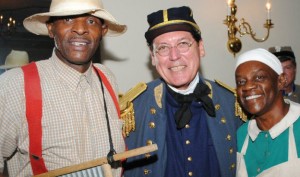 This is an assignment for my Culture in Counseling Class.
The National Federation of Republican Women held a meeting in Charleston, SC  and Glenn McConnell, a white American Republican State Senator from South Carolina posed in confederate army attire with two African American people dressed as slaves. His place of power within South Carolina juxtaposed with the African Americans' place of service highlights America's deception of progress. We've got a black man from Chicago in the White House, but there are still black people dressed as slaves serving white men and women in the south. Congratulations America, we've fixed racism!
An immediate sense of outrage bubbled to the forefront of my consciousness when I first saw this picture. I can't believe that a national organization around one of our two major political parties thought it was appropriate to celebrate what they call "A Southern Experience" and what I call a celebration of slavery. As a society, we need to recognize and move past the notion that racism is no longer a problem. This photo is explicit evidence that this is not the "post-racial" society that some claim it is. Understanding that the struggle is on-going is the first step to continuing the conversation and working towards real progress.